YOGA WITH SCOLIOSIS with ABBY KRAAI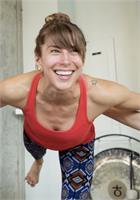 Abby is passionate about helping others feel at home in their bodies. As a former back-brace-wearer and current fused-spine-lady, Abby is delighted to offer a workshop so near and dear to her heart!
Offering 1 or 2 day Workshop!
Saturday Nov 9th 2019 @ Get Hot Yoga 2:00pm-4:00pm
&
Sunday Nov 10th 2019 @ Get Hot Yoga 12:00pm-2:00pm
Understanding our bodies comes through a continual process of inquiry. With infinite variations in bone structure and musculature, not to mention lifestyle, we are indeed utterly unique. Scoliosis and spinal fusion can be especially frustrating, as the spine is central to our posture and movement. In this 2-day workshop, we will examine four key actions that can greatly benefit practitioners with scoliosis and spinal fusion:
Day 1 will explore safe ways to side-bend and twist (appropriate for anyone with scoliosis)
Day 2 will explore safe ways to decompress the spine and strengthen the core (appropriate for anyone with scoliosis, spinal fusion, or both!)
Whether you're a yoga student with scoliosis or fusion, or a teacher excited to learn more about this topic, this workshop will offer valuable tools to help understand, care for, and celebrate the unique bodies we carry.
Cost:
$75 for both sessions
$40 for 1 day drop in