At Get Hot Yoga we are much more than your average yoga studio. We believe in wholeness & nurturing of the mind, body & spirit & incorporating wellness into your life as much as possible.
Our Bonney Lake location offers treatment rooms for both relaxation massages & energy work as well as a Sanctuary Retreat Infrared Sauna room where you can relax in a private, 45 minute sauna session.
INFRARED SAUNA
A good healthy sweat is the key to happiness!
"Your body is a temple, but only if you treat it as one." Exposure to stress, pollutants, pesticides & heavy metals can burden your body & slow its ability to replenish and detoxify on its own. That's why you need a good healthy sweat to get GLOWING. Far infrared saunas use heat and infrared light waves to warm the body on a cellular level in order to release pent up toxins more effectively than traditional saunas.
How to prepare for your sauna session:
Wear comfortable clothing, something you dont mind sweating in, but you can dress down to your comfort level! Bluetooth connection available in sauna to enjoy your own playslist or guided meditation, and as always drink plenty of water before and after your session! Showers are available after session if needed.
INTRO Single Session (45min)
2 Person Sauna Session (45min)
BENEFITS OF INFRARED SAUNA:
-Stimulates lymphatic drainage response
-Calms blood pressure & cholesterol levels
-normalized blood sugar levels
-Boosts immune system
-Decreases inflammation and releases toxins
-Cellular Level Rejuvenation
-Detoxifies 7X more than a traditional sauna
-Increases mental clarity
-Calms the mind
-Decreases Cortisol levels and increases Serotonin levels
-Expels wrinkle causing free radicals
-Balances Skin tone
-Hydrates skin
-Increases cellular turnover
-Gives you that GLOW
-Releases excess water & toxins
-Increases metabolism
-Increase circulation & Oxygenation (useful for both chronic & minor injuries)
-loosens stiff muscles
-Increases mobility
-Has been said to help reduce side effects of chemotherapy and reduce Fibromyalgia symptoms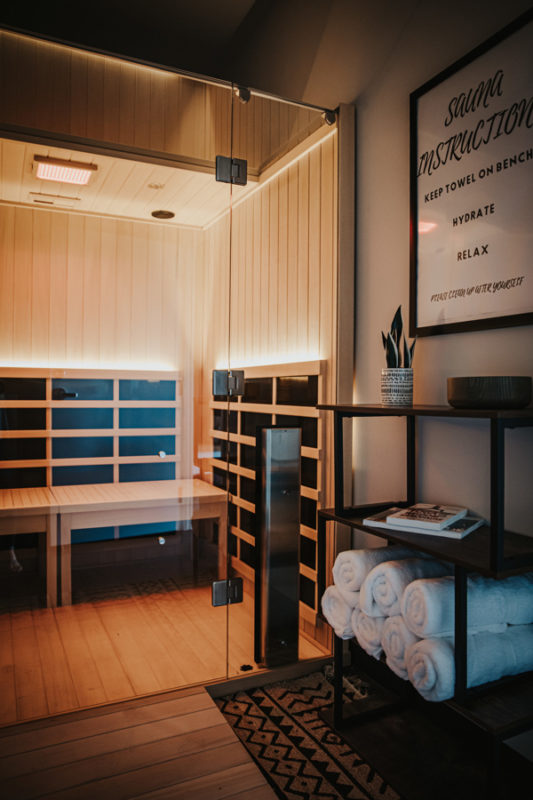 SIGNATURE SPA BODY TREATMENTS
:
"Essence of the Earth"
Dead Sea Mud Wrap
Dead sea mud is renowned for its rich mineral content and is a rare blend of calcium chloride to balance, iron to strengthen, and sulfates to beautify the skin. This luxurious mud glides on in a velvety layer. As it dries, it cleanses, exfoliates, draws out toxins, hydrates and improves the flow of nutrients to the skin's surface. This 75-minute treatment begins with a 15-minute sauna session to open pores and stimulate circulation, followed by a 60-minute body treatment. Dry brushing removes dead skin cells and further stimulates blood flow. Relax deeply with a Rosemary scalp massage while wrapped in a mylar sheet to enhance the therapeutic benefits.
 "Sea to Table"
Celtic Sea Salt Scrub
Hand harvested in France, Light grey Celtic Sea Salt is a moist sea salt that is completely unrefined and gets its light grey hue from the pure clay lining of the salt beds where it's harvested, preserving the vast array of vital trace minerals. This 75-minute treatment begins with a 15 minute sauna session to induce sweating, open pores and soften dry skin, followed by a 60 minute body treatment. Celtic Sea Salt is mixed with fractionated coconut oil along with select essential oils to remove dead skin cells while deeply moisturizing the new layers beneath giving the skin a beautiful soft glow.
"Fascia Detox"
Stimulating Myofascial Adhesion Treatment
The Fascia is a complex web of supportive connective tissue found throughout the body. It can become bound and weak from injuries, weight gain, constant sitting, or repeated pressure in one area of the body, and other repetitive use activities including sports. The fascia detox treatment can improve range of motion, muscle performance, muscle recovery, reduce the appearance of cellulite, improve circulation and the appearance of skin. This treatment uses specialized tools specifically designed to break up fascial adhesions in the superficial layers of tissue and muscle. This 75 minute treatment begins with a 15 minute sauna session to warm and soften tightness in the body, followed by a 60 minute body treatment. Deeply penetrating and therapeutic arnica oil is blended with select essential oils to reduce post treatment muscle soreness, and stimulates lymphatic drainage.
*Contraindications for signature spa treatments include claustrophobia, skin lesions, any recent skin damage, wounds, abrasions, scratches, seams and scars, exacerbation of dermatological disease, acute infectious diseases, chronic heart disease, diabetes mellitus, menstruation, arterial hypertension, pregnancy.
*Body treatment only. Not designed for the delicate skin of the face.
* All Spa Body treatments include a 15 minute Infrared Sauna session prior to your scheduled appointment time. The time you select for booking is when the bodywork portion of your service will begin. Please arrive 15-30 minutes early to utilize your sauna session. (For example: If you book your spa body treatment for 6pm, you need to be in the sauna no later than 5:45pm to begin the body work portion on time & receive the whole experience).
SIGNATURE MASSAGE TREATMENTS
:
"Journey to Samadhi"
Classic Swedish Massage
Samadhi is a state of consciousness in which you release the sense of self from
the ego to achieve a state of blissful enlightenment and calm. In our 60 minute
signature massage offering, your therapist will customize a massage treatment to
unwind and release held tension using a combination of Swedish, deep tissue,
trigger point, cupping and other therapeutic massage techniques unique to each
therapist. Depth of pressure and areas of focus will be customized to individual
preferences and needs. Enjoy complimentary essential oils and scalp massage to enhance and deepen your experience.
"Stones of Tapas"
Hot Stone Massage
Traditional hot stone massage began in the ancient science of Ayurveda dating back 5,000 years. Hot stones were used to anchor the Muladhara or Root Chakra and the Svadhisthana or Sacral Chakra to ground an overstimulated mind and body. Our 60 minute Hot Stone Massage will restore balance, bringing a sensation of tranquility, connection to self and earth. Enjoy complimentary essential oils and scalp massage to enhance and deepen your experience.
"Shakti Rising"
Prenatal Swedish Massage
Shakti represents the dynamic forces that are thought to move through the universe. It represents the Divine Feminine, Power, and all life force energy.
Our 60 minute prenatal massage is designed to hold sacred and nourish the mother to be. Side lying and supported by pillows, your therapist will perform classic Swedish massage techniques. Depth of pressure and areas of focus will be customized to individual preferences. Enjoy complimentary essential oils and scalp massage to enhance and deepen your experience.
*Contraindications for massage therapy include infection, contagious conditions which can have various causes, from viral to parasitic, inflammation from injury or infection, acute medical conditions such as recent injuries, treatments or surgical procedures. Cancer unless cleared by your provider. If you are uncertain, please check with your medical provider prior to booking.
Our Signature Massage Treatments do not include a sauna session. Please arrive 10-15 minutes early to settle in.
90 minute massage sessions are available upon request for our Journey to Samadhi, Stones of Tapas and Shakti Rising offerings. Please call the studio to book if you prefer a 90 minute session. (253) 447- 8715
CANCELLATION/NO-SHOW POLICY:
MASSAGE/SPA BODY TREATMENTS: Reserved appointments require AT LEAST 24 hour notice when cancelling or rescheduling. Anything less than 24 hours will result in a 50% charge of your scheduled appointment. No shows and last minute cancellations will result in being charged the full price of your service.
INFRARED SAUNA: We require a 2 hour notice of cancellation. Late cancellations and no shows will be charged a $20 fee to your card on file.