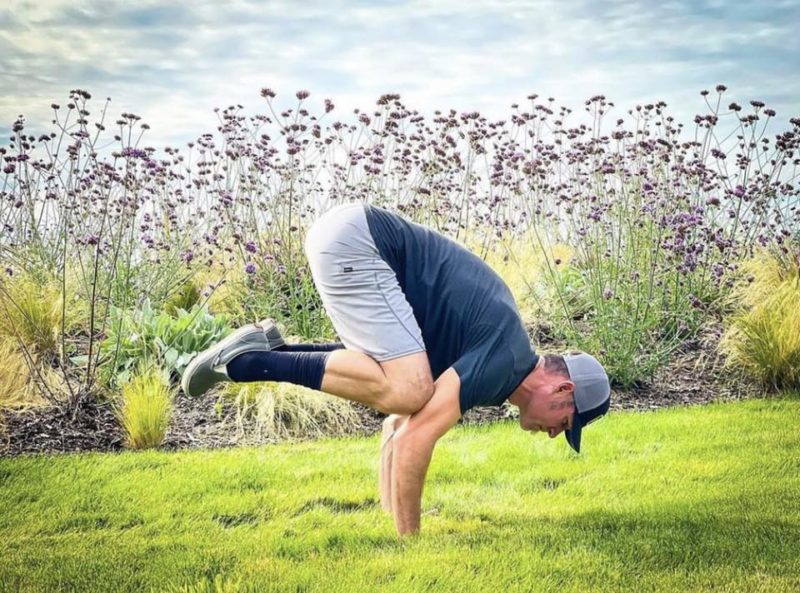 Movember Yoga for Men's Health
Donation based class with Michael Welsh
This hour includes a fun Vinyasa flow followed by some breathing and meditation exercises.
This donation class benefits the Movember Foundation. 
Checks (made payable to Movember Foundation) or cash donations only.
WHEN
11/26/2022 12 – 1PM
Bonney Lake Studio
Michael Welsh
COST
Donation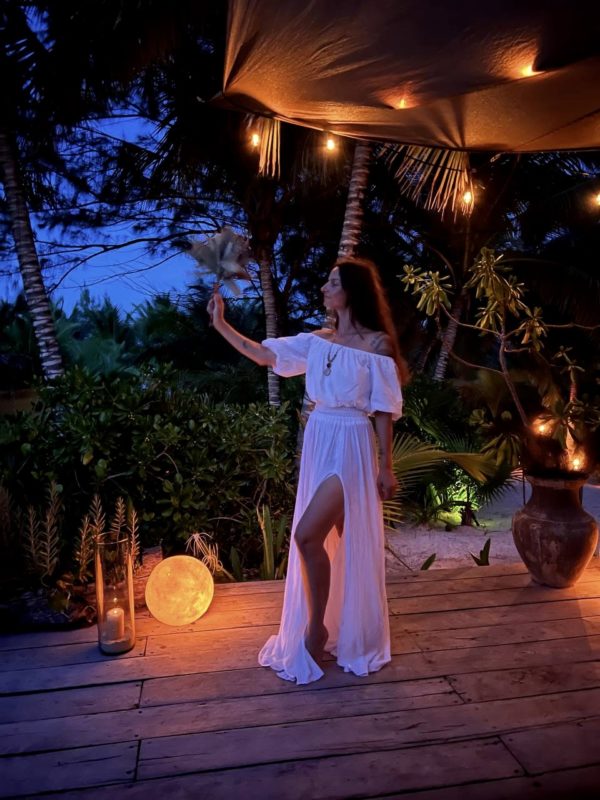 Breathwork Journey with Celeste Palmer
Breath is Medicine
Breath is a powerful vehicle for connecting with Pure Source energy and can facilitate deep healing, purification, transformation and manifestation.
Breath + Intention = Divine Miracles.
Join us for a healing Journey with Sacred Breath and Sound.
During this experience you will learn a powerful breath practice to facilitate the movement of stuck energy, the release of emotions and expanded states of consciousness.
Your Sacred Breath Journey will be supported with a guided meditation into the Healing Temple of Sophia Gaia, Icaros (Sacred Medicine songs) which carry a healing frequency of Amazonian Plants & Earth Medicines, Crystal Tones Singing bowls, plus hypnotic transmissions to reprogram and empower the Unconscious Mind with powerful "I AM" statements; all assisting us in the dissolving of limiting fear programs while establishing a greater connection with the Divine and our High Self.
You will leave feeling emotionally and energetically lighter, expanded, profoundly nourished, blissed out, and in deep gratitude.
Please bring your yoga mat, water, an eye mask and a journal as there will be time for reflection after the completion of the Sacred Breath Journey.
There are two chances to practice with Celeste
WHEN
11/6/2022 12 – 2PM
11/20/2022 12 – 2PM
Bonney Lake Studio
Celeste
COST
$44 (Elite members receive 15% off)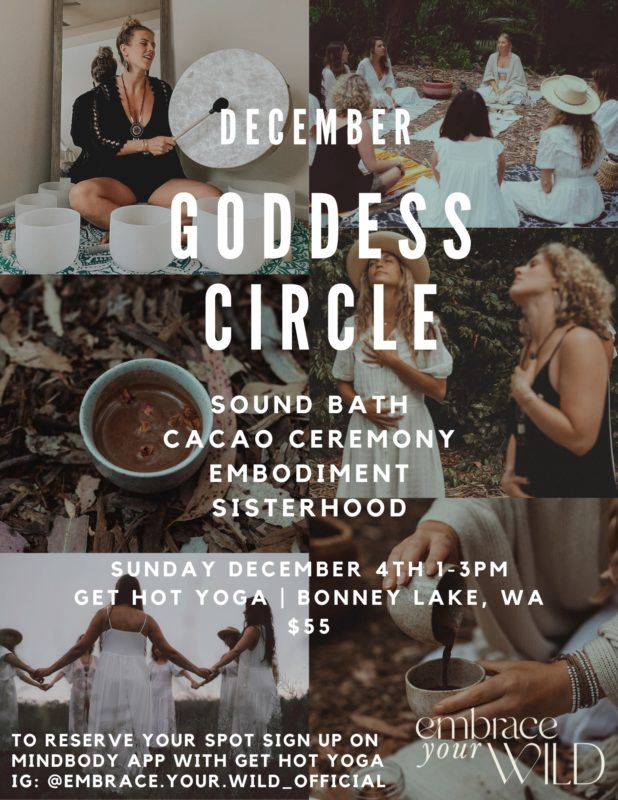 Goddess Circle with Savannah Joy
Join our Goddess Circle gathering to reconnect to peace, joy, clarity, and your deep knowing. Come back to trusting that you always know the right next step. Reconnect to your deep feminine wisdom in the depths of your body and soften the walls of your radiant and loving heart.
Through this 2 hour journey of embodiment, cacao ceremony, sound healing and sisterhood, allow yourself to be loved and accepted exactly as you are. Let go of the idea that your emotions or struggles are too much and that you have to carry them alone. We are all in this together and your presence is a gift.
Meant to feel like a mini retreat in the midst of your busy life, take time to slow down, nourish yourself, and reconnect with your deepest desires and presence.
Hosted by Savannah Joy, the founder of Embrace Your Wild and an embodied feminine leadership coach. You will be guided to release the busyness and mind chatter that distracts you from your quiet knowing. You will be held in loving and non-judgmental space to access your radical self-acceptance and peace. Come home to the perfection and divinity of who you really are, beneath your masks, labels, and roles. Allow yourself to receive and be poured into so you can return to your life nourished and overflowing, ready to make a difference in the lives of those you love.
WHEN
12/4/2022 1:00 – 3:00pm
Bonney Lake Studio
Savannah Joy
COST
$55.00 (Elite members receive 15% off)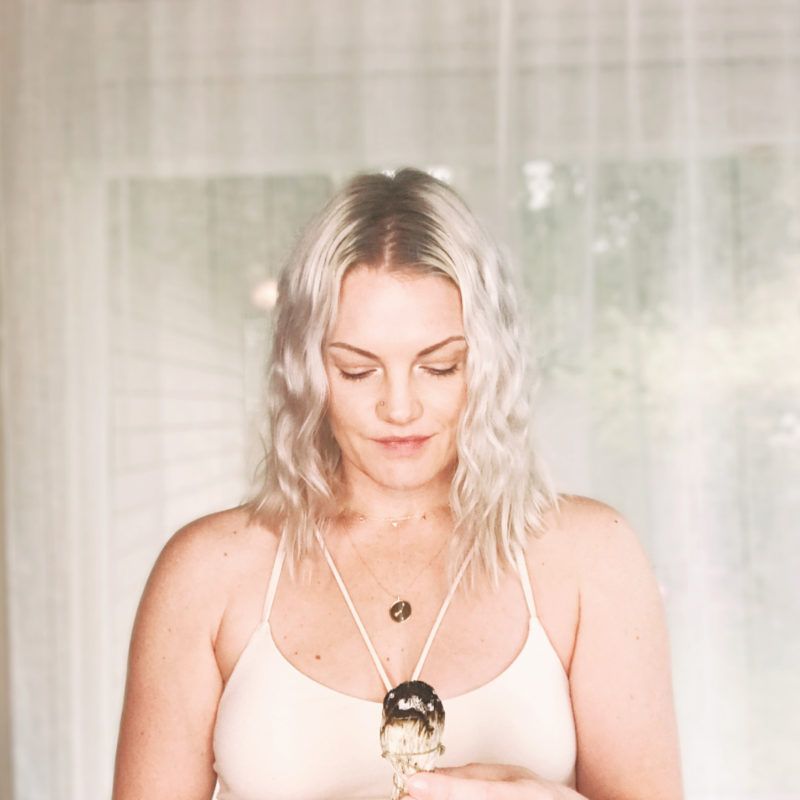 Holiday Gift of Mindfulness for YOU with Piper Sandifer
At this time of year of hustle and bustle there is nothing better for us all then meditation and mindfulness practices so…we want to GIFT YOU this much needed tool this holiday season! Join Piper – academic director of the 200-hour Yoga Teacher Training program that starts this Jan – on Friday December 9 @ 7:45pm. 
In this hour we will join as a community to create a group energy that will leave you feeling balance, aligned and most importantly uplifted and inspired. We will use various pranayama and meditative techniques, flashes of journaling and collective consciousness to leave us operating in total and utter JOY.
Please RSVP as space is limited and bring a journal and pen in addition to your mat and water.
WHEN
12/9/2022 7:45 – 8:45pm
Bonney Lake Studio
Piper Sandifer
COST
Free (but must pre-register)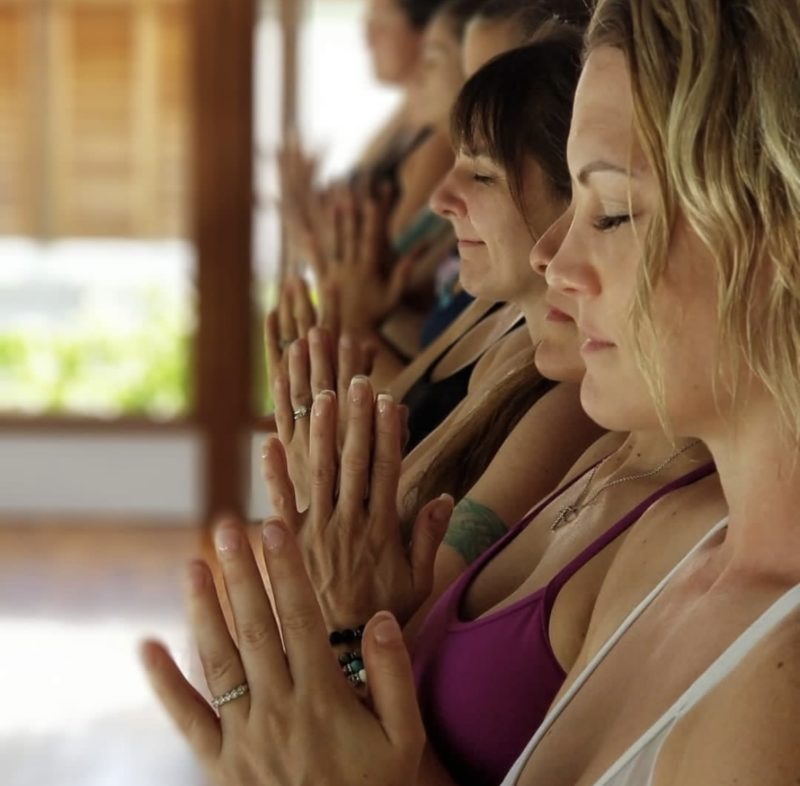 Global Soul Yoga 200-Hour Teacher Training
Global Soul Yoga provides a world-class training program that won't just equip you to teach a yoga class, it will shift your life! Join Piper Hogan,Academic Director, and a multitude of guest teachers for this exploration into yoga philosophy, physiology, anatomy and worlds beyond. This experience is sure to inspire and uplift students who wish to expand their yoga education and deepen their practice, as well as those who wish to earn their 200-hour certificate and start teaching.
 This session is a HYBRID program where students will meet over the course of 11 weeks. Learn live in person for 8 weekends and meet weekly on zoom. This will provide students the most full-bodied experience to prepare to serve via a multitude of platforms, reach more students and maximize the ways that you inspire others!.
WHEN
January 21 - April 8, 2023
Bonney Lake Studio
Piper Hoganat
COST
$3450

LOCATIONS
Maple Valley Studio
27203 216th Ave SE Suite 7 Maple Valley, WA 98038
(425) 413-0619
Bonney Lake Studio
21231 WA-410 E Bonney Lake, WA 98391
(253) 447-8715
HOURS
Mon-Thurs: 6am-1pm & 5pm-9pm
Friday: 6am-1pm & 5pm-7:30pm
Saturdays: 7am-11am
Sundays: 8am-11am & 4:30pm-7pm
The lobby will open 20 minutes before each class starts to allow for proper cleaning in between classes. Doors will be locked during class if no receptionist is present. See schedule page for specific class times.