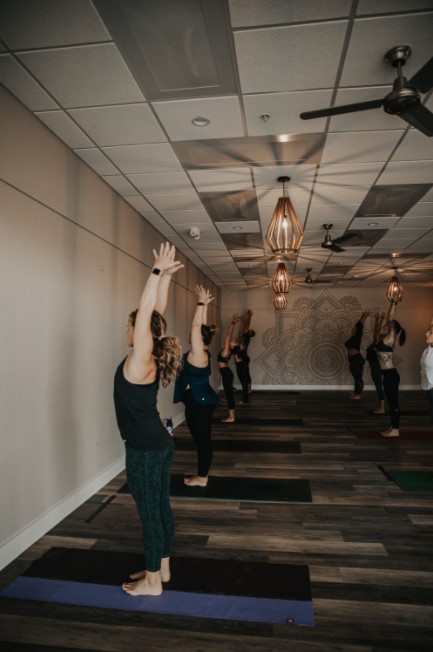 GET HOT YOGA BEGINNER SERIES
Join our very own Randi Riesenberg in a 4 week beginner series!
In this beginner series you will learn proper alignment and foundational poses necessary for vinyasa flow practice. As well as variations to tailor the practice to your unique needs and body.
All are welcome regardless of flexibility or past experience.
Great opportunity to move slowly, improve balance, and have one on one attention to find the proper alignment in your body.
The advantage of a class series is building upon what you learn each week as you grow in your own practice.
Yoga is referred to as a practice, with continued lifelong learning, a beginner series is a great place to start that process with an open mind and strong yet relaxed body.
Week 1 – Foundational poses and concepts. Yoga 101.
Week 2 – Review Sun Salute components and flowing them together. Closed hip poses.
Week 3 – Open hip poses and introduction to arm balances.
Week 4 – Transitioning between shapes, variations on common poses and standing balance.
WHEN
Saturdays Sept 11th, 18th, 25th, & Oct 2nd
12:00 – 1:30 PM
WHERE
Get Hot Yoga Maple Valley

WHO
Randi Riesenberg
COST
$85 for all 4 sessions (must attend all sessions)

SOUND HEALING CLASS
Mystics believe the World is a reflection of infinite combinations of sound patterns & history has led us to discover that most ancient cultures have been using sound to facilitate healing & transformation for thousands & thousands of years.
Sounds Vibration is the primary mover for change & is a powerful tool that can help us completely shift our emotional state, breakup, cleanse, & clear stuck energy, cultivate sensations of peace, help us access deep unexplored & forgotten places within the Unconscious Mind, & support us in creation & manifestation by attuning us to the frequency of abundance & love.
Join Celeste Palmer
in a deep restorative journey of Sound Healing
WHEN
June 25th – Bonney Lake
July 9th – Maple Valley
WHO
Celeste Palmer
COST
$25 (Elite Members receive 15% off)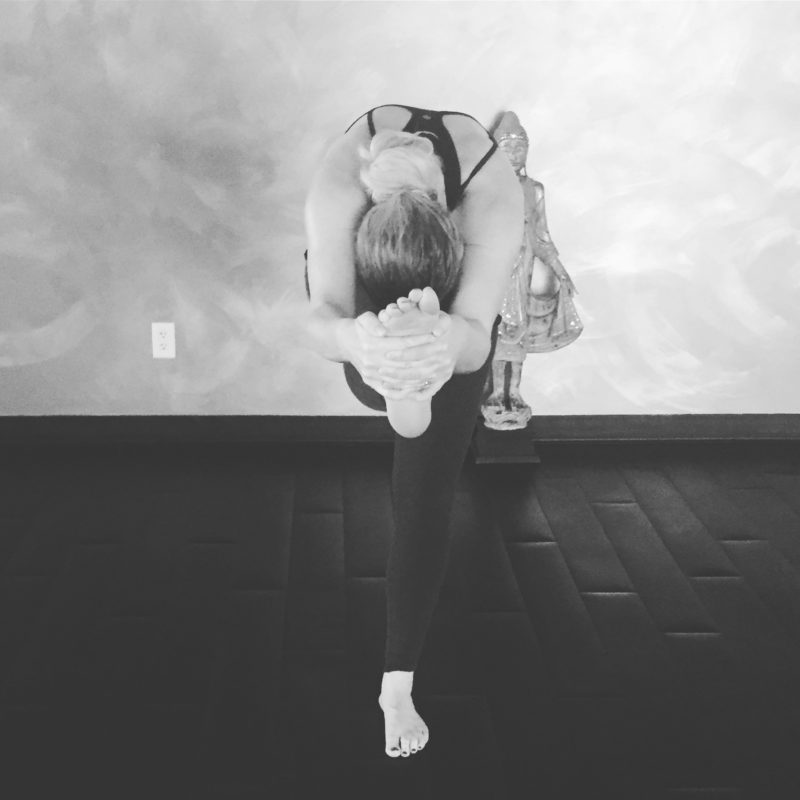 HATHA 26+2 POSTURE CLINIC
Join Rebecca in this 2 day workshop where you can dive deeper into your Hatha practice! Option to attend either 1 or both days depending on your practice needs!
This workshop will break down the components of both the standing/balancing & floor/back strengthening series. Students will learn the primary purpose of each posture, gain understanding of postural alignment, more efficient ways to move in and out of each asana, as well as modifications.
**
This workshop counts towards continuing education hours for Yoga Alliance**
WHEN
Saturday June 26th 11:30am – 1:30pm
Sunday June 27th 11:30am – 1:30pm

WHERE
Get Hot Yoga Bonney Lake

WHO
Rebecca
COST
$60 single day

$80 both days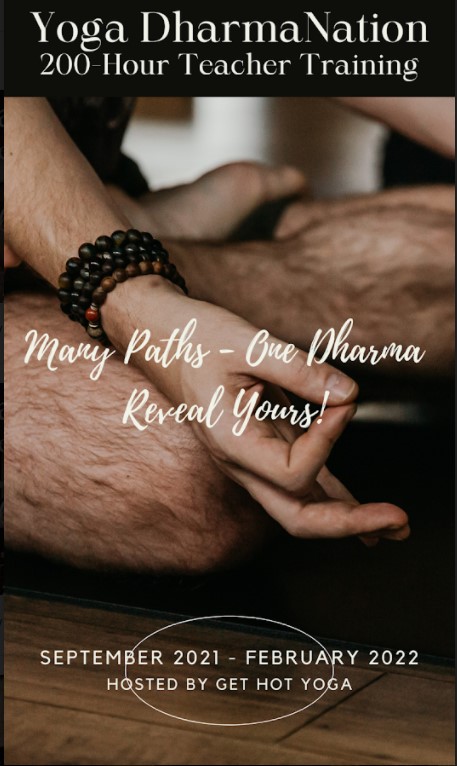 Yoga DharmaNation 200-Hr Yoga Teacher Training
Whether your goal is to teach yoga one day or to take your knowledge to the next level for personal enrichment, the Yoga DharmaNation 200-Hr Yoga Teacher Training is your opportunity to dive deeper into the multi-faceted aspects of yoga on and off your mat.
 This 6-month program is designed to give you time and space to cultivate a more intimate understanding of your own practice, immerse yourself in the abundant philosophy/mythology of yoga history, and gain the skills necessary to facilitate an informed yoga class - if that's where your path leads!
 "Many Paths. One Dharma. Reveal Yours!"
WHERE
Get Hot Yoga
Bonney Lake, WA
WHO
Kenny Landis
COST

Base Costs for the Training:
$2800 Early Tuition / $3000 Tuition after June 1st
Support for the community as well as yourself:
$3000 Early Tuition / $3200 – Tuition after June 1st
LOCATIONS
Maple Valley Studio
27203 216th Ave SE Suite 7 Maple Valley, WA 98038
(425) 413-0619
Bonney Lake Studio
21231 WA-410 E Bonney Lake, WA 98391
(253) 447-8715
HOURS
Mon-Thurs: 6am-1pm & 5pm-9pm
Friday: 6am-1pm & 5pm-7:30pm
Saturdays: 7am-11am
Sundays: 8am-11am & 4:30pm-7pm
The lobby will open 20 minutes before each class starts to allow for proper cleaning in between classes. Doors will be locked during class if no receptionist is present. See schedule page for specific class times.