NEW TO YOGA?
Showing up is the hardest part! We will take care of the rest!
WELCOME! WE CAN'T WAIT TO MEET YOU.
Starting something new can be intimidating, but beginners fit right in at Get Hot Yoga! In no time, our studio will feel like home to you too! Our instructors are available before and after class for questions and will suggest specific modifications to help you become acquainted with the postures and comfortable in your own practice. While you are welcome to start in any of our classes, most beginners find the Hatha class to be a good starting point to exploring yoga for the first time.
How to get started on your yoga journey:
Download our Get Hot Yoga or Mindbody app to create your new student profile. Once your profile is complete you can begin to register for classes and choose your class package right from your app or computer!
SCHEDULING NOTES:
WE STRONGLY RECOMMEND PRE-REGISTERING FOR CLASSES TO GUARANTEE YOURSELF A SPOT!
Please note the 2 week New Student Special does not begin until you take your first class so don't worry if you are not able to get in right away!
If you are on a waitlist you will receive a text & email if you are moved into class. However, to be safe please ensure you are checking your wait list status and removing yourself from class if you no longer wish to attend.
Students will not be moved from the waitlist if it is past the 8 hour cancellation window for classes that are the first of the day & 4 hour cancellation window for the remaining classes, so you can check your app for last minute open spots or call the front desk!
There are countless benefits for those who incorporate hot yoga in their lives, including:
Works every muscle, organ, gland, and nerve in the entire body.
Allows you to burn up to 1200 calories a class and releases toxins.
Helps to prevent injury.
Improves lung and heart function.
Increases muscle tone. • Improves concentration due to accelerated blood flow to the brain.
Improves blood flow and flow of immune system fluids.
Reduces stress
Hot yoga helps to remove metabolic waste, detoxifying the body and supplying nutrients to the brain.
People who perform yoga a minimum of two times a week feel energized, sleep better and rarely get sick.
Releases endorphins to relieve pain and improves migraines, pinched nerves, and rheumatoid arthritis.
Improves mind-body coordination.
Helps to improve mood and enhanced mental willpower.
Improves posture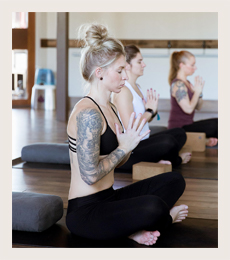 Someone who practices yoga consistently may notice the changes on the outside occur first, such as weight loss, muscle toning and even clear, radiant skin. Then as they become deeper into their practice, more subtle changes become apparent, such as the ability to focus and concentrate becomes easier, patience, reduction of stress, and best of all healthier organs! LITERALLY! Each posture in yoga is designed to work certain parts of the body ranging from the heart, intestines, metabolism, spine, knees… the list could go on for days.
QUICK LINKS:
---
---
---
---
---
Click here to create your student profile
WHAT TO EXPECT
Depending on the class style, our studio room is heated anywhere from 75-105 degrees. We think you will find that our heat is a gentler heat than most hot studios to allow you to move and breathe freely in class! Our studio doors open 30 minutes before class; we lock the doors during class if there is no receptionist in the lobby. Arrive at least 15 minutes before your first class to get signed up! Late arrival/early dismissal is not allowed.
Come on an empty stomach, but fully hydrated. Drink lots of water!
Please silence your phone upon entering the studio. We strive to create a peaceful environment where we can detach from electronics to ensure the best, peaceful and grounding experience possible.
You'll be asked to leave your bags, phone, shoes and other personal items in the changing rooms or studio cubbies.
We ask that you observe silence in the yoga room so students can meditate and relax before class begins.
Most instructors bring their own mix of music to play that compliments the theme and style of class.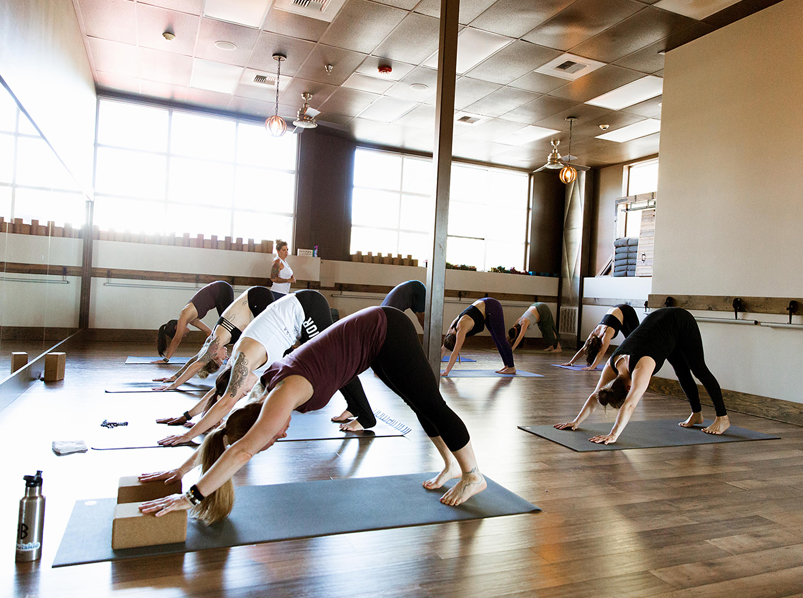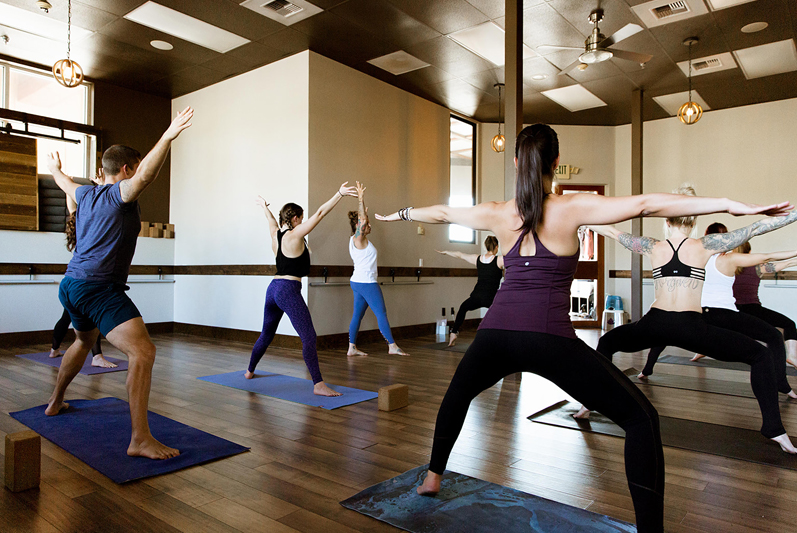 WHAT TO WEAR
Wear comfortable, light exercise clothes that allow you to move freely.
Wear clothing that you're comfortable sweating in.
Out of respect for your fellow classmates, we ask that you refrain from using heavy perfumes or cologne while in the studio space.
WHAT TO BRING
A water bottle and towel will ensure you're hydrated and comfortable during class.
A yoga mat is essential for each class. Please bring your own yoga mat and towel if possible.
NEW STUDENT FORM
Please follow the link to create your new student profile. You may also do this by downloading our Get Hot Yoga or MindBody app!
FREQUENTLY ASKED QUESTIONS
What are Private Sessions
Private sessions are tailored specifically to the needs and goals of the student. The students are paired up with the instructor that best fits their needs and schedules. To schedule session email april@gethotyogastudio.com. Price may vary depending on the depth of practice.
What is Barre?
Our classes are designed to effectively strengthen, tone and balance the entire body. We offer fat burning workouts that integrate the use of the ballet barre, light weights and various props. Students will focus on form and precision while performing small isometric movements as instructors emphasize basic alignment, foundation, and specific muscle actions. Each class includes several highly effective sequences of toning and resistance exercises with an emphasis on the core, arms, seat and thighs. Each strength section of this workout is followed by a stretching section to create long, lean muscle without bulk. These are challenging, no impact classes that require focus and precision for maximum results.
What is Hatha Yoga?
A traditional hot practice with a set sequence of 26 postures designed to heal, strengthen and challenge the body and mind. This is a static practice of active, long hold postures with resting and water breaks. Some variations to the sequence may apply depending on the instructor. Average room temp is 105 degrees.
What is Sculpt Yoga?
Be prepared for a fun, upbeat, work your body strong class! Transforming traditional yoga postures into a practice with a twist, using light weights to tone your whole body and build long lean muscle while challenging your body and mind. No two classes are alike, so come back again and again and watch your body change!
What is the Vinyasa Power Yoga?
Vinyasa Power: literally translates to synchronizing breath with movement. You will hear breath ques given by the instructor. In vinyasa flow you are flowing from posture to posture, some consider to be dance like!This class will be a 60 minute class. There will be a lot of variation to these classes to keep it fresh and exciting and triggering your imagination in yoga.
What is Yin Yoga?
Yin is a slow flow that stretches connective tissue, tendons, ligaments and muscular tissue. This style uses gravity rather then effort to stretch the body and relieve stiffness in muscles and joints. Postures are passive and done primarily on the floor typically held for 1-5 minutes at a time. The temperature in the room is turned slightly down, creating a meditative and gentle practice. Yin helps to heal and prevent injuries and promotes overall flexibility! It is a great balance to the Hatha and Vinyasa classes in order to maximize your benefits.
What is Fusion Yoga?
Fusion is a smooth blend of Hatha and Vinyasa creating a unique flow where no two classes are alike.
What is the age limit?
As we believe even at a young age, yoga can be very beneficial! We do not have a set age limit, however, students 17 or younger must be accompanied by a parent or legal guardian. **Please note, instructors reserve the ability to excuse minor students if they appear to become a distraction to class**
No Show Policy
If you pre-register for class and fail to show or cancel outside of our cancellations windows a $20 fee will automatically be assessed to your card on file. We require no less than 8 hours in advance for the first class of the day and no less than 4 hours in advance for the remaining classes of the day.
LOCATIONS
Maple Valley Studio
27203 216th Ave SE Suite 7 Maple Valley, WA 98038
(425) 413-0619
Bonney Lake Studio
21231 WA-410 E Bonney Lake, WA 98391
(253) 447-8715
HOURS
Mon-Thurs: 6am-1pm & 5pm-9pm
Friday: 6am-1pm & 5pm-7:30pm
Saturdays: 7am-11am
Sundays: 8am-11am & 4:30pm-7pm
The lobby will open 20 minutes before each class starts to allow for proper cleaning in between classes. Doors will be locked during class if no receptionist is present. See schedule page for specific class times.